Twin Transformation as a company-wide transformation that unlocks unimagined synergies and secures competitive advantage.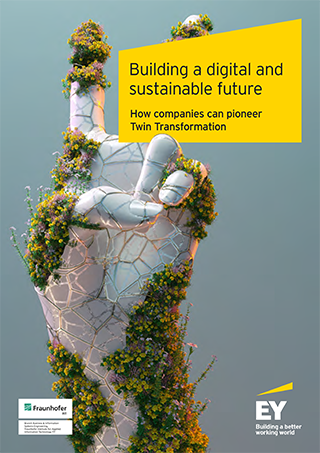 While many organizations are busy managing their digital transformation, there is growing political, societal, and economic pressure to increase the alignment toward sustainability. To meet these expectations, many organizations are already recognizing the need for an immediate sustainability transformation. Contrary to the belief, that the two organizational goals, digitalization and sustainability, could be in conflict, there is great potential in looking at the digital and sustainability transformation simultaneously. The Twin Transformation puts them on an equal footing, while influencing each other. Digital transformation acts as a lever to achieve sustainability goals, while sustainability transformation is the opportunity and purpose for digital transformation.
Based on interviews with sustainability and digitalization experts from various industries, combined with research experience, the Branch Business & Information Systems Engineering of the Fraunhofer FIT and EY have developed a whitepaper on Twin Transformation. The study aims to motivate, inform and support companies in the Twin Transformation. The study's five key insights for understanding the Twin Transformation are:
Leverage the synergies between digital and sustainability transformation to become a Twin Transformer.
Embrace all areas of action of the Twin Transformation, as all areas of an organization must be addressed holistically.
Identify an organization's unique Twin Transformation starting point by using the Twin Transformation Compass as orientation.
Leverage the IT organization and the finance department to act as catalysts for the Twin Transformation.
Use the Twin Transformation as a springboard for further multi-transformations.
Twin Transformation is an opportunity for an organization to survive in times of crisis, characterized by digital competition, environmental challenges, and social tensions, and for it to make positive contributions.