Participation to W3C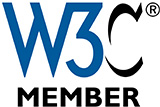 To ensure the sustainability and impact of our research, the team of the Web Compliance Center is involved since 15 years in different Working Groups of the World Wide Web Consortium (W3C). The World Wide Web Consortium (W3C) is an international community where Member organizations, a full-time staff, and the public work together to develop Web standards. Led by Web inventor Tim Berners-Lee, W3C's mission is to lead the Web to its full potential.
Our participation also ensures that our team is up-to-date with the leading-edge developments of the web and is able to influence new directions of the web in collaboration with leading industrial partners.
Since 2013, Dr. Carlos A Velasco, manager of the Web Compliance Center, is the representative of the Fraunhofer Society within the Advisory Committee (AC) of the W3C. The new responsibilities include the formal review of the activity proposals, proposed recommendations and changes to the W3C process management and patent policy. Furthermore, we coordinate the participation of the Fraunhofer institutes into the different activities of the consortium.
Actual work of the team includes participation to: